eKurs your course booking program
With our user-friendly, customizable, web-based course management software, we offer you a seamless and easy way to manage your courses, participants, instructors, locations, and payroll.
eKurs - the program that helps you keep track of your courses
Do you want the ability to easily and systematically manage courses, participants, and staff, all in one place?
Would you like to provide participants with the ability to easily reserve seats, manage their courses, have an overview of the schedule, and be able to contact instructors and staff?
Then our Course Booking Program is what you're looking for!
eKurs is one of Creamarketing's biggest products today. Our course booking program is continuously developed to meet the needs of our customers. The program includes a website where you can showcase your courses, market your services, and it also serves as a login portal for both instructors and participants.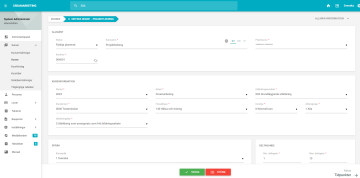 Efficient and seamless course booking software for a successful business
With eKurs, you gain access to a powerful course booking program that will elevate your business to the next level. Whether you run an educational institution, a private fitness studio, or offer workshops and seminars, eKurs is a simple and streamlined solution for managing your course bookings.
Using eKurs, your customers can easily and quickly book their courses online. With an intuitive and user-friendly platform, they can explore available courses, choose the ones that suit them best, and securely complete their booking. This saves time for both you and your customers, creating a positive experience that enhances customer satisfaction.
eKurs also offers a wide range of features to help you efficiently manage and organize your courses. You can easily create and customize courses, manage course locations, instructors, and participant numbers, as well as set prices and discounts. Additionally, you can send automatic confirmations and reminders to your customers, reducing the risk of misunderstandings.
Security is also a priority with eKurs. We prioritize the security of your customers' and your own information, employing security protocols and data protection features to safeguard sensitive data.
In summary, with eKurs you receive a powerful tool to optimize your course booking process and improve the efficiency of your business. Contact us today to learn more!
Tina Storsjö
Project manager
Contact info